You might also enjoy...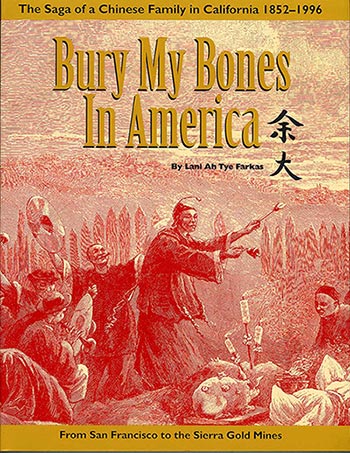 Hardcover or Paperback, 0.5 x 8.8 x 11.5 inches
ISBN-10: 1887694110, ISBN-13: 978-1887694117
Bury My Bones in America
The Saga of a Chinese Family in California, 1852–1996—From San Francisco to the Sierra Gold Mines
And what does the haunting title, Bury My Bones in America, mean? The author explains, "Most Chinese came to America as sojourners, hoping to make their fortune and return to China as rich men and die among their people. If they should die in America, rich or poor, they made sure of one thing: their bones must be returned to the land of their ancestors and be buried there, so their spirit would not wander forever in the darkness of a foreign world."
But Yee Ah Tye broke with all tradition and shocked his family and friends when on his deathbed he insisted that his bones be buried for all time in America, his adopted home. It was a symbol of his deep commitment to this new land and the deep roots he had established for his family. It was the beginning of a new dynasty involved in intrigue and diplomacy, teaching and medicine and in myriad subtle ways contributed to the vibrant culture in California.